Top 5 Kitchen Ceiling Fan With Bright Light – Glow Your Entire Kitchen Room
Do some people think what is needed for Ceiling fans in the Kitchen? But its requirements, in some cases, kitchens, are fundamental. Kitchens are also becoming trendy, so there are required to be stylish-looking great ceiling fans. Here in this article, we have shared a list of the best kitchen ceiling fan with bright light.
Before going into the list of best ceiling fans for the kitchen, let's discuss whether ceiling fans in the kitchen are required or not.
Ceiling Fan in the Kitchen? Yes or No
When designing the kitchen's architecture, a ceiling fan is required if we don't take care of ventilation and airflow. The kitchen already has lots of equipment, so the temperature increases with the cooking time. On summer days also, the kitchen temperature is much higher. So a Ceiling fan helps air circulation and creates an excellent environment in your kitchen.
Advantages of Having Ceiling Fan in Kitchen
A ceiling fan keeps airflow circulated in Kitchen.
It helps to remove the cooking smell.
Keep flies away as with its flow.
There are many modern fans with royal looks, but we must choose two in one fan with Bright light for the kitchen as it already has lots of equipment. Choosing an appropriate fan with the brightest light for your kitchen is essential.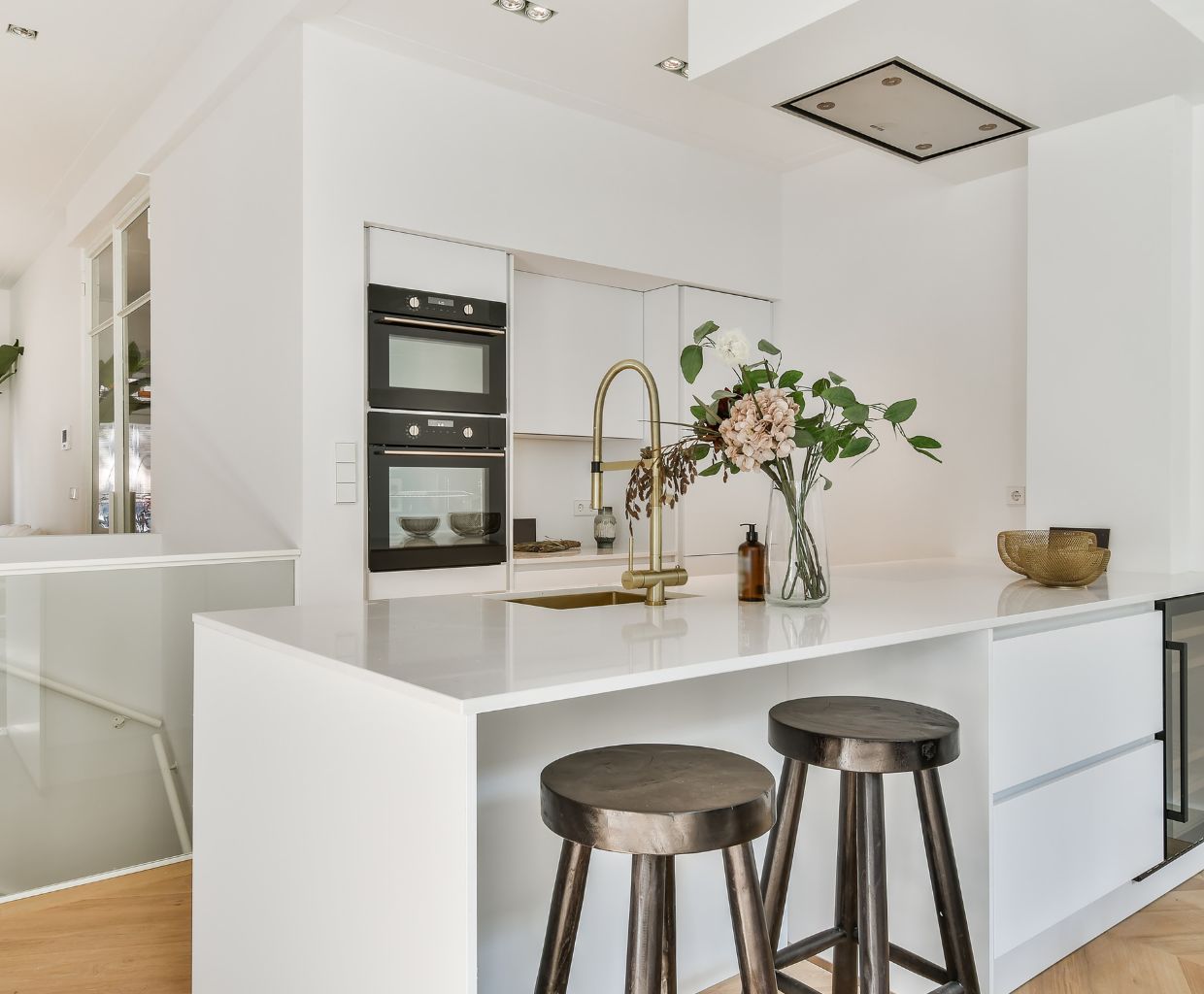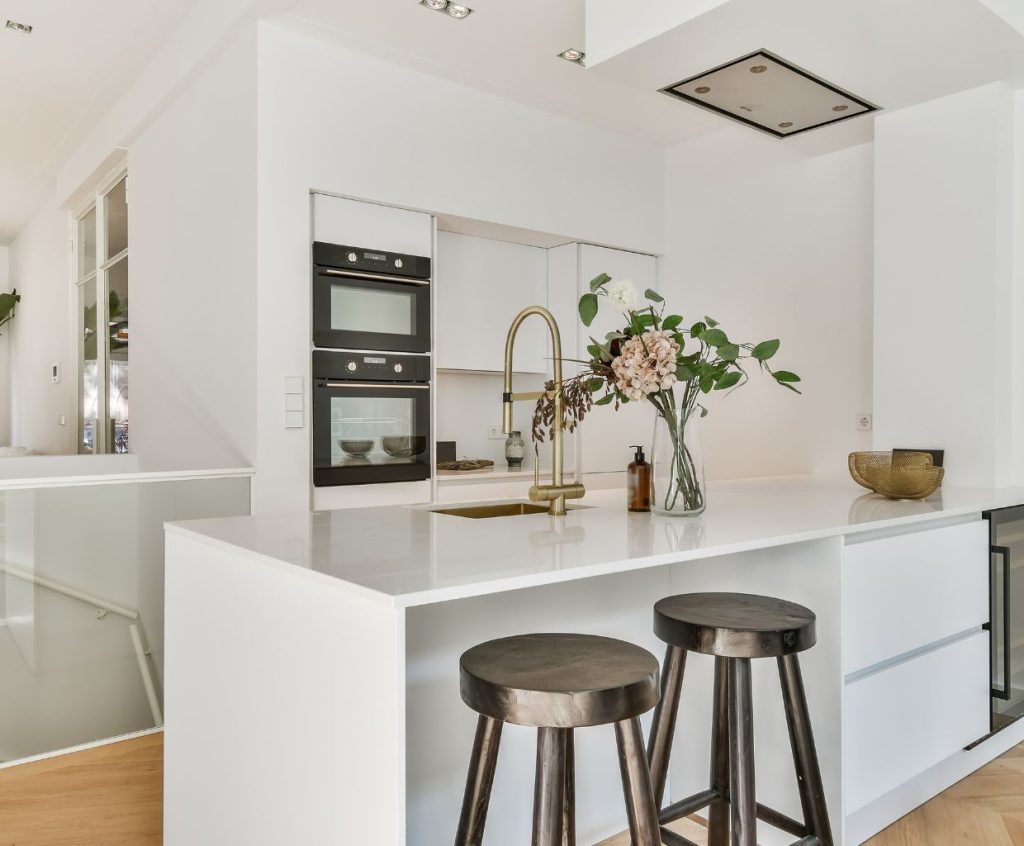 5 Best Kitchen Ceiling Fan With Bright Light
After researching, we finally found these great ceiling fans for the kitchen with bright light.
1. HUNTER 54208 Crestfield
Hunter has been serving in innovative designs since 1886. Hunter 54208 Crestfield is a classic-looking ceiling fan with a Glass-covered LED Lights panel. There is an option to choose a downdraft and updraft the blades as per your needs. It also has a pull chain control feature to control the fan by pulling the chains. The best part of this fan we loved is that it has two-sided blades with one black matt finish and another with a textured finish of noble bronze.
No products found.
The total diameter of the hunters' fan is 52 inches with five blades, and occupies 9 inches in size from the ceiling. The LED panel is 600 Luminex Flux. If you don't want a Light panel, you can remove it and place the cover provided with the product. Hunter doesn't provide the remote but can control it through a universal remote.
2. Warmiplanet Ceiling Fan
Warmiplanet has the best remote-controlled modern fan with bright light. This fan has 2 rods of 5 inches and 8 inches as per your needs. It is equipped with four blades with double shades of white and silver. It's a 52" fan with a total height of 15 inches. Fans' look gets enhanced with the nickel plating to the motor housing.
It has an LED panel with different control modes through the remote. It can control the light's temperature from 3000K to 6000K as per our need in 3 different modes.
No products found.
In remote control mode, you also get auto-sleep mode in it. The option is to turn the fan on and off through the remote so you can become lazier! We required a two-way motor in the fan as per the environment, and we can reverse the motor with a remote only.
3. Indoor Ceiling Fan Light Fixtures – FINXIN Black
It is a 3 Blades fan with a matt black finish. Rather than black, it's also available in white color and has woody blades to finish. It's also a 52 inches ceiling fan with three blades and Led light. Its blades are also made up of high-quality plastic and acrylic finish.
There is a vintage bronze design provided with a motor panel. You will get a remote to control lights in three modes and other fan features. You can control light in White, Yellow, or bluish light, but there is no option to deem it for the night.
No products found.
Read Also: 5 Best Ceiling Fans For Small Rooms With Low Ceiling
Fixin has a great feature of 10 years of warranty for this fan. This unit has silent operating features in both forward and reverse mode controls.
4. LCiWZ 18 ln Ceiling Fan with Lights
It is the smallest among all ceiling fans, just 18 inches in diameter. These fans are specially made for small-sized kitchens and rooms. This fan doesn't include blades outside light; it has a blade light included in the case. The light has 6400 Luminux flux, which can energize a small-sized room quickly. It's light in weight and is just 8 inches high.
No products found.
Through a remote controller, we can control the 3-step speed of the fan and three steps of light. A unique feature included in this fan is memory mode. Yes, It will restart in the same mode you kept while closing. With the help of a semi-flush mount, you can assemble it to ceilings quickly. It's available in polished white color. Circulating air in the kitchen with a small-sized unit can be done by LCiWZ 18 In Ceiling Fan.
5. SNJ Modern Ceiling Fan
SNJ has a 44-inch diameter ceiling fan with four blades. This fan is made with high-quality metal, glass, and plywood. Yes, Plywood is also used to give finishing to one side3 of a blade. Another side of the blade has an oil-rubbed finish.
The Motor unit of the fan is lined with a bronze finish. You can adjust the fan's speed in 3 steps and turn on or Turn Off the light through the remote control. There is no dim light feature, but the remote control has three colored light-changing options.
No products found.
Its bright light is great for medium-sized rooms, also. There is no flicker in the light, as some fans have. SNJ modern Ceiling Fan is primarily used in dining areas but can also be used in kitchens. It works without creating noise but provides huge air circulation.
While Buying a Kitchen Ceiling Fan With Bright Light
You have to consider all your requirements and the available space in your kitchen for it. Fifty-two inches fans are sufficient for a normal-sized kitchen. If your kitchen size is standard, there is no need for extra light than fans overhead light.
You must choose the best design of fan that suits your kitchen architecture and design.